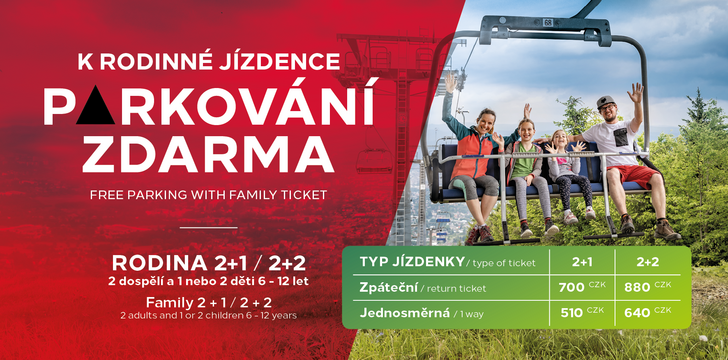 Why should I have GOPASS?
THE CHEAPEST chairlift ticket/skipass
SAVE - prices with GOPASS card are always lower than at the ticket office. For you, your family, your friends. You can easily have up to 10 other people in your account.
GOPASS card is NOT refundable. Use it today, next week, next winter, next year, next few years and you don't have to spend time in ticket office lines anymore.
You buy your ticket and GOPASS card ONLINE yourself, in the comfort of your own home, for any day of the year.
For every purchase with your GOPASS card, you collect REWARD POINTS, which you can use to buy selected products online again. Don't forget about other benefits for GOPASS card holders at hotels, water parks, golf resorts, shops, rentals, restaurants!
In addition, thanks to the GOPASS card you have skiing statistics on your mobile phone - every day you can check the number of kilometers traveled, number of rides, elevation gain...
SIMPLY AND QUICKLY REGISTER AT GOPASS.TRAVEL
BUY THE CHEAPEST TICKETS ONLINE FROM THE COMFORT OF YOUR HOME OR VIA MOBILE
PICK UP YOUR NEW GOPASS CARD WITHOUT WAITING IN LINE AT TICKET POINT
Children up to the age of 5.99 are only entitled to free services if they are accompanied by an adult who is over 18 years of age.
Children aged 6 to 11.99 are entitled to a 'Child' ticket.
Children aged 12 to 17.99 are entitled to a 'Junior' ticket.
Persons over 60 years of age are entitled to a 'Senior' ticket.
To claim entitlement to special tickets, customers must present a health insurance card or another document proving their age.
Fares purchased at the cash desk are placed on a chip card. A deposit of CZK 50 is paid for the card. The deposit can be refunded at the cash desk, at the top chairlift station, or in an automated machine. The GOPASS card is non-refundable.
Free transport of bicycles, prams, pets, etc. with a valid ticket.
The operator reserves the right to change the prices; all prices are listed in CZK.
We would like to inform visitors to the Ještěd Ski Resort that the turnstile area is monitored.
Your photograph will be taken when you pass through the turnstile; this photograph is processed and stored by the check-in system, and it will be retained for the duration of the ski pass validity, after which it will be erased.
Multi-day tickets must be used on consecutive days. Visitors must comply with the Transport Rules available at cash desks and transport facilities (LD Skalka).