Tourist trails
Get inspired by our recommendations and interesting places. Enjoy the beautiful landscape, historic buildings and views from the Ještěd ridge.
---
Trail no. 4 - "Hřebenovkou to the transmitter"
From the top station of the Skalka chairlift you can take a relaxing walk to the transmitter on Ještěd. The path is marked in mapy.cz as "Hřebenová cesta" or in our map as route No. 4 and takes about 30 minutes at walking speed, the elevation is only 100 meters.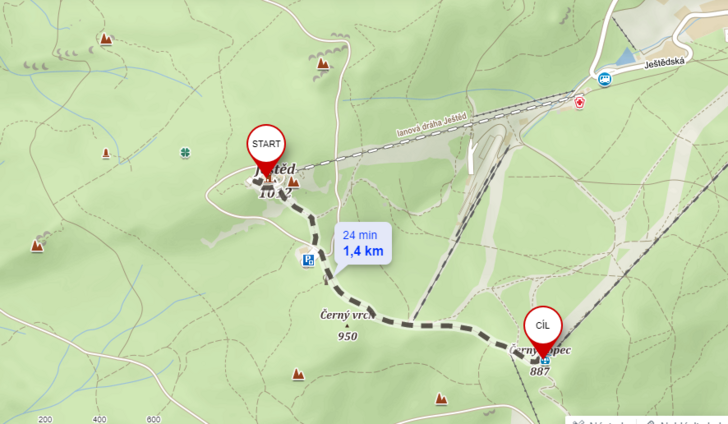 This popular trail stretches over 8.5 km and it generally takes 3 hours. The pleasant walk leads over the Ještěd ridge and paved forest paths. It will take you through the tourist 'Chata Pláně' around 'Nový prales' to the 'U Šámalů' hut, where you will get a beautiful view of the south of Ještěd and the Ralsko landscape. On the way back around the 'Nad Hlubokou' well you will reach the natural monument 'Panský lom', followed by the final section back to the bottom station of the Skalka chairlift.
You can view the whole trail at this link (mapy.cz), or download it here (GPX)
TIP: Enjoy this trail on off-road scooters Kickbike FAT-MAX.
Trail no. 2 - "Ještěd a Vířivé kameny"
This recommended trail is 6.6 km long and it usually takes 2.5 hours. On this trail you will get to see the very icon of the Liberec region - the transmitter on Ještěd - where you can enjoy the most beautiful views of the surrounding countryside. The route will take you further to 'Vířivé kameny' - the largest rock formations on the northern side of Ještěd, and the 'Padáky' nature trail will take you to the ski jumping complex where the 2009 Nordic World Ski Championships were held. From here you will go around the bottom chairlift station to Ještěd along 'Beranova cesta' back to the P1 central car park and the bottom Skalka chairlift station.
You can view the whole trail at this link (mapy.cz), or download it here (GPX).
Trail no. 3 - "Ke skokanským můstkům"
Do you like adrenaline? Do you want to see something you can't see from the road? Then we have the right thing for you. Get on the Nová Skalka chairlift and then take a walk to our ski jumping hills along a comfortable, easy path; although it is uphill, it's just a short way away from the Ještěd transmitter.
The ski jumping hills with 115 m and 88 m construction points (K115, K88) were built under Ještěd in the years 1966 - 1967.
The entire complex was renovated prior to the Nordic World Ski Championships in 2009, which included ski jumping competitions on the Ještěd ski jumping hills.